Confidence Builds with Age and Experimentation
Letter #4: How my confidence has evolved over time, and how I finally decided to get serious about writing a newsletter.
I struggled with insecurity throughout childhood and into early adulthood. As you may have read in my other posts, I still do.
When I was 7 or 8, I was afraid I wouldn't be good at gymnastics right away. Learning in front of others would be too embarrassing, so I told my mom I wasn't interested in joining a gymnastics team. I wanted to balance on the high beam and turn flips on the uneven bars, but my fear of failing in front of other kids my age was too strong, and I gave into the insecurity.
When I was 17 and ready to apply to college, I was afraid I would face rejection from the competitive universities in Wisconsin and Minnesota—or any other state for that matter—so I defaulted and applied only to the University of Wisconsin-Milwaukee, a mere 15 minutes drive from where I grew up. I desperately wanted to explore another state, live in the dorms, partying and making new friends. But I couldn't bear the thought of telling my high school friends I wasn't accepted into the colleges they were going to, so I went with the safe bet.
I even got nervous when cooking for ex-partners! I was never confident in the kitchen, afraid I'd burn something or miss an ingredient entirely, leading said ex to question their belief in my being a viable partner. SMH.
The only place in my life I felt most confident was in art classes. I could shine there, having an effortless way of creating things with my hands. It's where I received the most affirmation from others, and where I knew I likely wouldn't fail. That and driving cars. I can drive just about any vehicle, you name it. Save for a semi-truck, but I'm open to trying. I also haven't driven a school bus, but I would!
My confidence grew considerably after moving to New York City after college. Well, it also helped working behind a bar for 9 years. But yes, moving to one of the busiest, most competitive, and also most welcoming cities in the world helped me grow from a scared little puppy into a daring, strong individual.
In New York I could wear whatever I wanted. I could stay up late and have lazy mornings in my apartment. I could go out to eat any time of the day, fly a trapeze, and take a sailboat to see Lady Liberty. I could get a $50 deep tissue massage, go see a movie, and go to a black tie gala, all in the same day. I could be completely anonymous or spend hours on end with friends. Not to mention how easy it is to catch a flight from one of the 3 major international airports to anywhere in the world.
And so, after 10 years in NYC, and countless international trips, I felt ready and confident enough to do it all over again. To step into the unknown and see where life takes me next.
I was encouraged by several of those close to me to properly document my experience. Nate Kadlac's newsletter, Plan Your Next, has been an ongoing inspiration for me, and he's helped me become confident enough to try my hand at writing. So far, it feels like I'm back in high school art class, my favorite hour of the day.
I appreciate the slow approach my Approachable Design team recommended as I began the newsletter (and I apologize for using the same word twice in one sentence, but it is fitting). To write for myself, just to get it out of my brain, and share with those I trust. Eventually the details will be flushed out, and I'll be confident enough to share publicly.
Tonight my mom said maybe I get my knack for writing from my dad. <3
---
Just to follow up on my confessions above, I never did pursue gymnastics, but I did join the high school rugby team at age 15. I realized I was tough enough to tackle and appreciated expending some aggression!
I only spent two years at the University of Wisconsin-Milwaukee before enrolling in the College of Apparel Design at the University of Minnesota-Twin Cities. There I received the degree that would launch my career, and met many lifelong friends that I am still incredibly close with today.
And I am still nervous to make dinner for any future partner, but maybe I'll take some cooking classes while I travel to hone in my skills for international cuisine. ;-)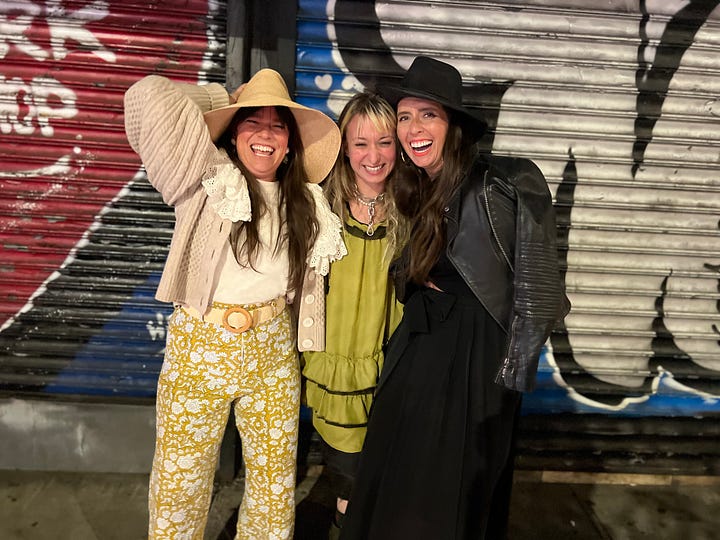 ---
What I'm reading: World Travel: An Irreverent Guide by Anthony Bourdain & Laurie Woolever, a collection of his favorite cities, accommodations, watering holes, and restaurants around the world. I purchased the book back in August and I'm still working through it today, but it's what officially pushed me over the edge to quit my job.
What I'm listening to: In Jen Vermet's newsletter, Letter from a Learn-it-All, #2 on her list of "30 Things In for 2023" is to listen to full albums of music. That struck a chord with me, so I started with Led Zeppelin's Physical Graffiti. Then moved onto Fleetwood Mac, Sufjan Stevens, and Brandi Carlile. I've been listening to full albums since Sunday and I feel like I'm back in my 2004 Jeep Grand Cherokee with it's 5 CD disc changer. Thanks, Jen!
Who I recently spoke with: I had the pleasure of meeting over Zoom with Cécile Marion. Nate Kadlac introduced us, as Cécile is finishing up a year sabbatical from her demanding and fascinating career in London. She recently returned home after spending six months in Bali, and provided plenty of great advice to make sure the next year for me is restful, fun, and creative. My biggest takeaway? That traveling for six months straight can be exhausting. She recognized she needed to sit still in one place so she had time to thoughtfully create and experiment with what she wanted to work on next. Hence the six months in Bali! Maybe I have to re-think my method of one month in each location…