Homeward Bound
Letter #7: A legendary Simon & Garfunkel song, and also 5 weeks spent back in the Midwest, bonding with friends and family over the holidays.
Once I returned to the US from Portugal, I spent a couple more days with friends in Bed-Stuy, Brooklyn before packing up my final luggage to take home to my parents' place in Wisconsin. I kept all of my crazy clothing items knowing that my funky New York wardrobe was not something I ever wanted to try to rebuild. But, even still, I was left with about 1/4 of the clothes I once had. An awesome exercise in checking in on my own over-consumerism.
I've been hesitant to write about my time at home over the holidays. It feels very personal and there are internal struggles I have with the Midwest, but I want to be open and honest (as much as is appropriate) in documenting my full journey.
I landed in St. Paul, Minnesota on November 30th, 2022 with 6 pieces of luggage. My sister-in-law picked me up from the airport with my niece and nephew in tow. I was thrilled to be able to spend more than just a few days with them a mere couple times a year, as we all know now, the corporate world only allows. I wanted to get to know them better by participating in their everyday lives, and finding new ways to bond together. Georgie is 4 and Louie is 7, so both are still at the age where they are easily affectionate and want their "Auntie Heather" around.
Admittedly, I am not used to being around kids 24/7, but I have major respect for the patience and kindness I watch my siblings demonstrate towards their little ones day in and day out.
Minnesota can be beautiful in the winter, with a constant snowfall that blankets the towns in white, insulating the environment from sound. This is a great time for me, however, to reflect on where I want to settle down next, and I struggle with it's excessive cold. Winter temperatures regularly dip into the single digits and its much too chilly to spend time outside. That and winter tends to begin in October and end in April.
I'm grateful that I don't struggle with depression, but I can recall feeling restless and unhappy during the 7 years I spent enduring the long Minnesota winters. And I am not sure that is something that would magically change for me now that I'm older. I need walkability and a daily dose of spending time outside in order to feel fulfilled.
Regardless, I had a great time iceskating with Louie at the outdoor rink, attending both the kids' Christmas recitals, and building snow forts together outside. It was amazing to be immersed in their little worlds.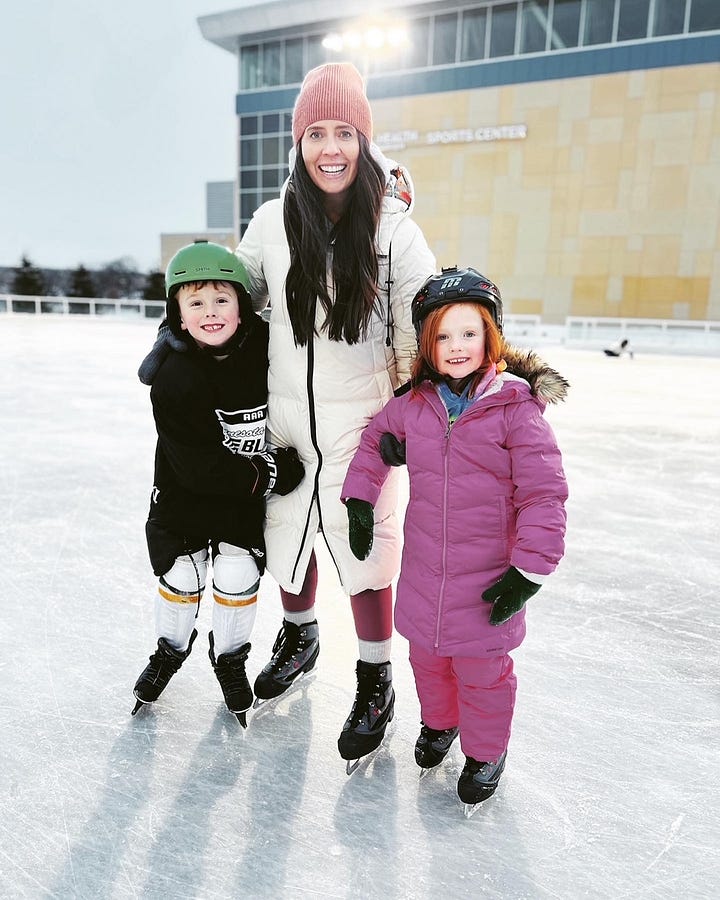 On December 15th, Leslie and I drove from St. Paul, MN to Merrimac, WI to visit Hilary's parents for an opportunity to get my favorite design buddies under one roof. The Hubanks have a beautiful home out in the country with a poor WiFi signal and the exhilirating ability to walk down the road in the middle of the day and never pass a single car. We gave Hilary a little "congrats on your wedding" celebration and spent our time cooking and eating together. All whilst roasting each other nonstop.
The blanket of snow that fell over Merrimac was magical as well. Our walks somehow felt cozy and freezing all at the same time. Life in the country is alluring—the wood burning stove that keeps the indoor/outdoor cats warm, the veggies harvested from their personal garden, and acres upon acres of private forest. But the extremes of living a life of constant excitement in New York versus the slow quiet days in rural Wisconsin may be too much for me.
I'm looking for something in between.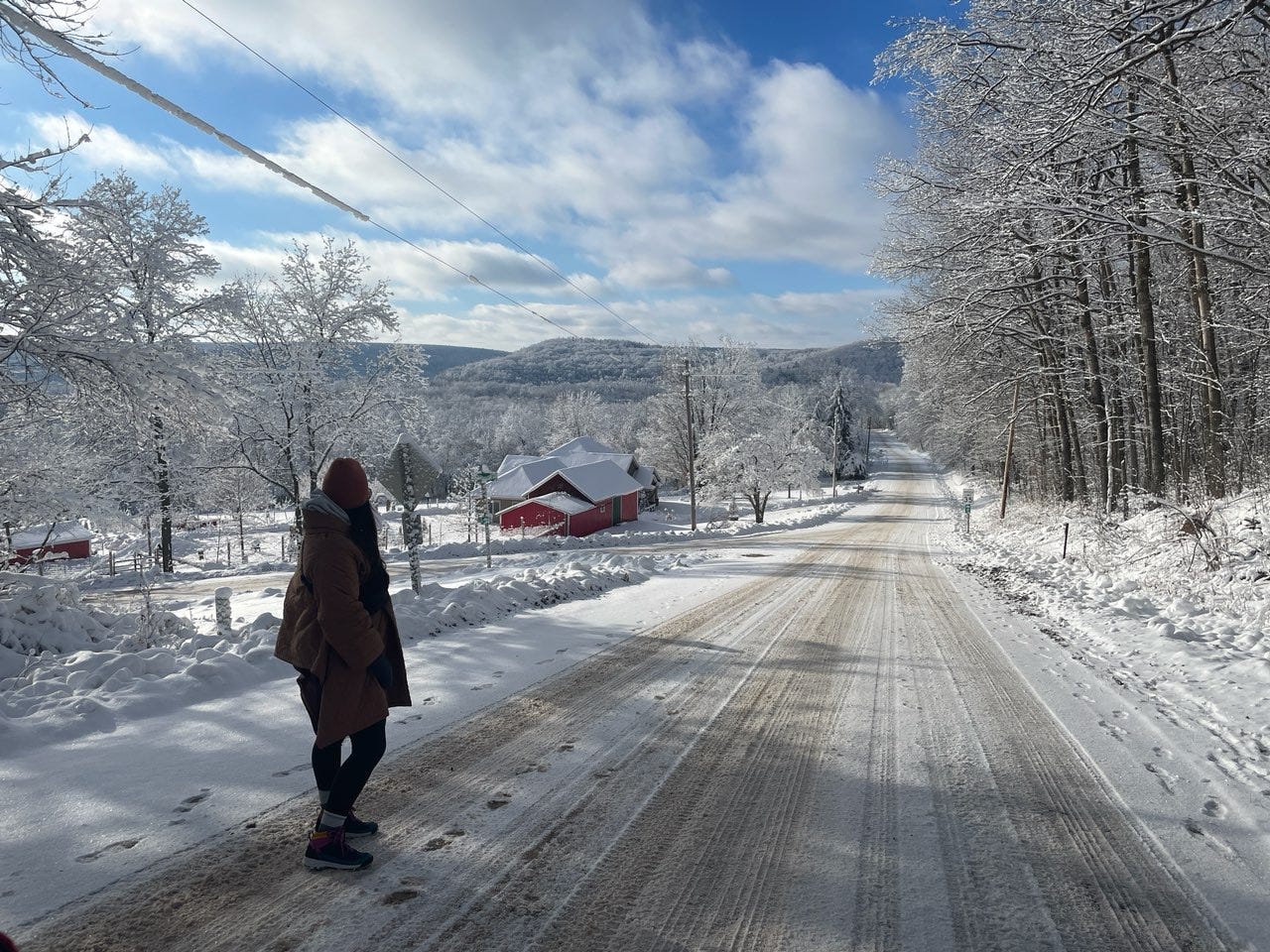 We reached Mequon, WI, the hometown where I grew up, on December 18th. Being home can be so easy—I have my own bedroom and my parents encourage me to take plenty of rest and make as few plans as possible. I went to the same gym at the same time every morning, took the dog for a walk, read, and napped. In the evening we'd make dinner and watch a movie together. I'd be indulging in this lifestyle for the next 3 weeks.
I hadn't spent that much time in one visit with my parents in over 10 years. I feel guilt even writing that out. They've always been so supportive of all my crazy dreams that inevitably take me farther and farther away from Wisconsin. I know I owe them more time and love than I find myself giving. But how does a person make it all work? How do you find enough time to have it all?
A couple years ago I had a conversation with my dad that I was terrified of living a conventional life. I feel relief when I am on the move and non-committal. But surely that won't last forever, will it? I'll want to buy a home in the woods, settle down near friends, and rescue a bunch of dogs, right?
We had such a great time together, that as my parents drove me to the airport, I knew I wasn't read to leave them. They both shared words of love and wisdom as they gave me hugs goodbye, with me holding on longer than usual. And I cried! Me! Not my mom who is infamous for the tears, ME! And I continued to cry all the way through security and to my gate. Had I already changed so much? Were we healing and strengthening our bond more than I realized yet? And is this going to happen with everyone I spend time with over the next year?!
Well, I had plenty of time to reflect on that as there are no direct flights from Milwaukee to Portland, OR, and I was headed to visit Helen Fernandes next.
---
Funny story that when I reached Minnesota I became sick. Like, REALLY sick. A terrible head cold that lasted a week, I could barely leave the house. I hadn't been that sick in years! My sister-in-law expressed that it was likely all the toxicity from the past 10 years of my job pouring out my of body. I haven't read The Body Keeps the Score, by Bessel van der Kolk, but now I'm intrigued.
---
What I'm reading: The Art of Racing in the Rain by Garth Stein. Helen gave it to me as a gift after spending a long weekend with her three rescue pups. <3 I wasn't sure how I felt about the narrative being told from a dog's perspective, but now that I'm halfway through, I'm hooked. It's an easy read to get into right before bed.
What I'm listening to: Alie and I have been longtime lovers of Tool. And yet all week we've been listening to various renditions of "Itsy Bitsy Spider" because that's the only song her 18 month old daughter, Rowan, wants to listen to. We tried an experiment where we slipped one Tool song into her nursery rhymes playlist and she seemed to like it. Will report back if we're able to successfully convert her.
Who I recently spoke with: I hosted a Monday evening online "Playshop " for Approachable Design, where past students meet to work on any current creative project they have going on, and lean on each other for feedback and support. The team is continually inspired by
and her dedication to
Creative Work Hour
, a space where Alessandra hosts an hour of creative time for her community…EVERY MORNING. No joke. 7 days a week. I only hope I can be so generous some day, and I'd love to be part of that hour…I just have to see how I can work out the time difference from SE Asia!