Portugal Pt. 2
Letter #3: Landing in Lisbon and battling my American insecurities.
I broke up my trip to Portugal between two cities. Two and half days in Lisbon, two and a half in Porto.
When I landed in Lisbon, I asked the cab driver to drop me in the Alfama neighborhood, near the Miradouros das Portas do Sol, a stunning hilltop view overlooking the River Tagus.
The cab driver rounded narrow, cobblestone streets, slick from the rain. The car climbed up into the hills of one of the oldest neighborhoods of Lisbon. He could only take me so far, as my AirBnB was only reachable by foot down the alleyways. He likely over-charged me, and I likely over-tipped him, a self-conscious American grateful for the first friendly face and fearful I'd ever come off as cheap.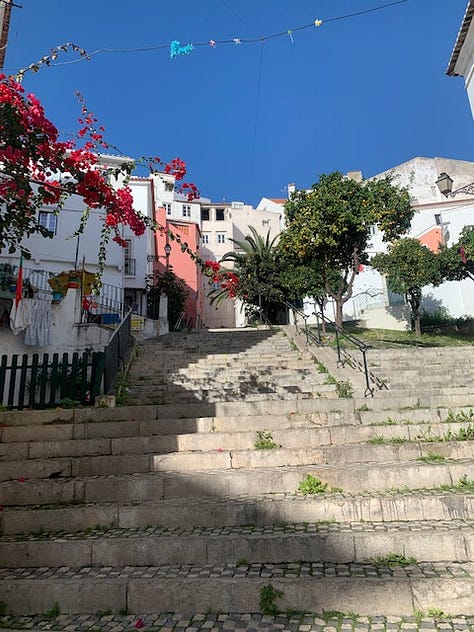 I reached my AirBnB after several wrong turns, my heavy pack weighing me down. I was exhausted. I'd slept maybe 2 hours on my red eye flight, and, since I knew I'd have plenty of time over the next year to soak in all the new places, I decided to lay down for a nap. I fell asleep for 3 hours, waking up at 4pm. It was 11am in New York so my energy level felt back to normal.
Alfama is the type of old school, European neighborhood where the laundry is hung out to dry, even in the rain, and grandmothers watch you walk by from their windows. I headed out to wander the streets, in search of my first glass of wine. Vino tinto, 2.50€. I had heard so much about the traditional Fado singers of Lisbon, so I booked a table at Café Luso, a recommendation from one of Sasha's friends. I imagined Fado to be similar to the feeling of watching Flamenco while in Barcelona.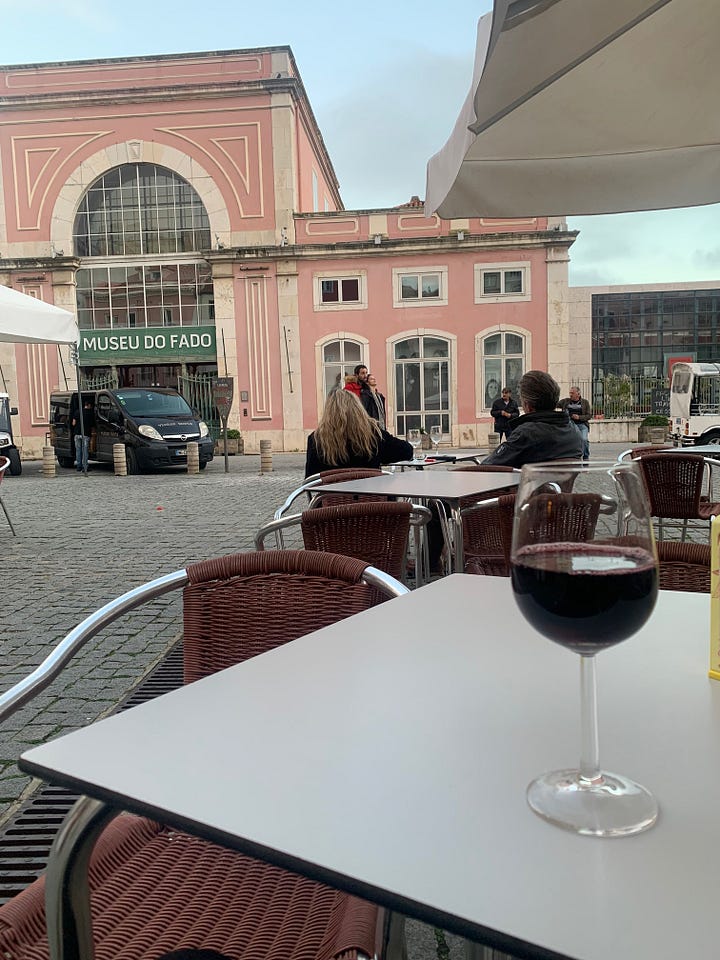 I walked to the restaurant, observing the stunning architecture, tiled walls, and the street musicians along the way. Many of these street guitarists use a pedal that records the chords and plays them back in reverse, creating a haunting, intoxicating sound, as though they have an entire band behind them.
Café Luso did not disappoint, featuring fine dining in 17th century palace stables and 7 or 8 Fado singers throughout the evening. The songs were woeful and their voices were strong.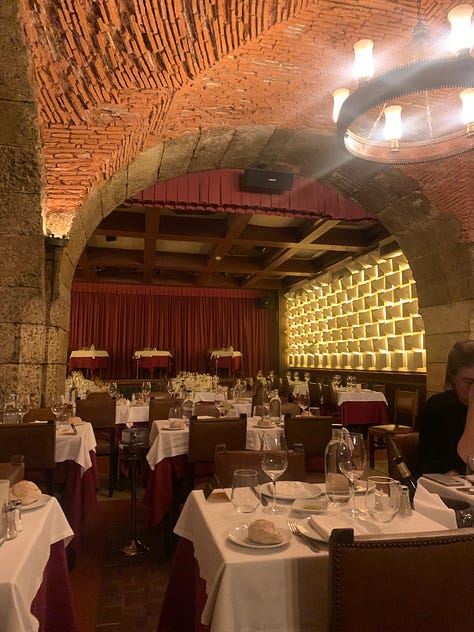 ---
I can speak a bit of Spanish and zero Portuguese. Just about everyone communicated with me in English, but I felt embarrassed that I could not speak the language. For some reason, I get second hand embarrassment for other non-Portuguese speaking American tourists, as well. My own strange hang-ups and insecurities when I travel—I want to blend in, with little disruption to the landscape and the natural flow of the local culture. But in a country like Portugal where tourism has been on a steady increase since 2015, it's hard not to be pegged for a tourist—it feels like everyone around you is a tourist.
I wrestled with this insecurity of mine, wondering how I'd work through it during my year of travel from Southeast Asia to Central America. If I can explain it plainly, I feel like the dumb, white American that did not bother to master several other languages so that I could travel and communicate easily. So how can I use this year to build up my own confidence while honoring the cultures of the countries I plan to visit?
---
On Thanksgiving day, after taking in the panoramic views of Lisbon from Castelo de São Jorge and partaking in my third Pasteís de Nata in two days, I was ready to head to the smaller coastal city of Porto—home of the beloved Port wine.
During the three hour, stunning countryside train ride from Lisbon to Porto, I booked a highly rated wine tour in the Douro Valley, about a 2-3 hour drive from Porto
I tend to grow weary when booking too many excursions during such a short trip, but I was craving social interaction where I would potentially meet some new friends. I had had plenty of alone time in Lisbon, getting too far into my own head, that I was ready for some laughs.
Rated at 4.98 stars on AirBnB, the Wine Venture & Boat Trip in Douro Valley was EXACTLY what I was looking for…