Portugal Pt. 3
Letter #5: Visiting Porto, an opportunity to make new friends, and the songs that give you all the feels.
Porto is a picturesque European city situated along the Douro River. Winding cobblestone streets lead to stunning, decorative architecture. Many of the cathedrals' outer walls are adorned with beautiful blue and white colored tiles called "azulejos".
I stayed in a huge AirBnB in the heart of the city, near the bustling pedestrian street of Rua das Flores. The apartment had high ceilings with full length windows opening onto the street. I could hear the street performers crooning outside the restaurant next door.
Once I settled in, I stepped out for a bite to eat and, of course, a glass of wine. But I made it an early night. I had an 8am call time for the Douro Valley Wine Tour.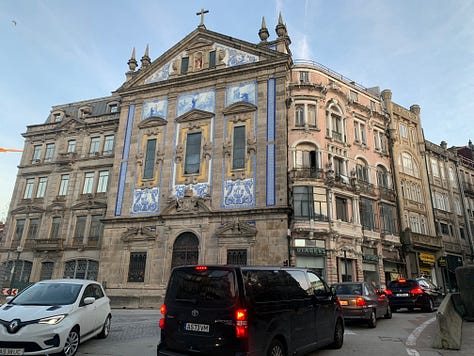 When I met up with the group, I was immediately pleased with how friendly the guide and the other guests were. I'm sorry to admit it, but I was grateful to be with English-speaking Americans with whom I could easily converse with. They were all fascinating individuals, all with travel lust and a sense of adventure.
The Mercedes van headed inland, east towards wine country. The landscape grew hillier and more rural. The tour group took turns introducing ourselves, and it felt good to share my story and have an entire day of more than just small talk with strangers.
We visited two small, Portuguese-family owned estates (most of the region is owned by the British). The Douro Valley is the first established wine region in the world, dating back to 1756, when the Prime Minister Marques de Pombal drew borders around the region in an effort to create structure around the quality and production of Port wine.
I'm not a huge fan or Port wine, but I have a greater appreciation for it after this trip. The quality of wine coming from these estates was unbelievable. They're old school—the sleepy main town of Pinhão inhabited by roughly only 600 residents, and the grapes are still stomped by foot. (12 men for 3-4 hours a day during harvest).
Quinta da Foz had a 2019 red blend of 25 grape varietals that I couldn't resist buying, even though I'd have to carry it on my back all the way home. I was also hit with a $90 checked bag fee. Was it worth it? 1000%.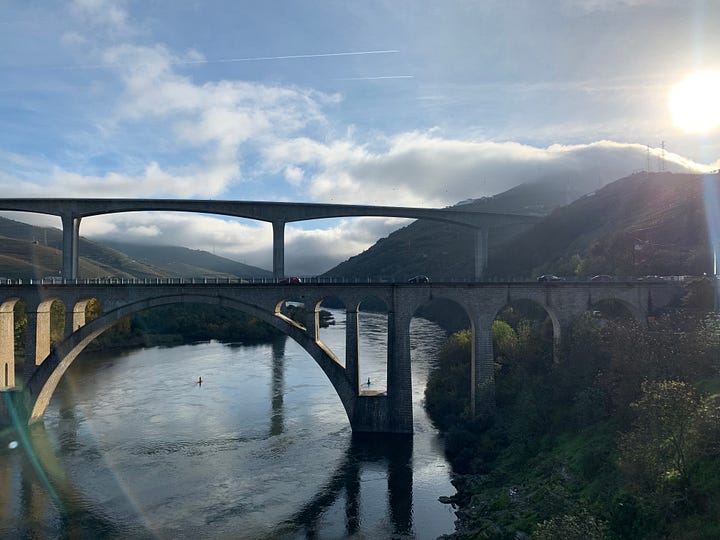 Quinta do Monte Travesso was a true stunner. Their home, built of stone and warmed by an open fire hearth, dates back to 1896. The family cooked us an insanely delicious lunch of stewed pork, kale soup, and, of course, a full wine tasting. The conversation among our group became more intimate as we shared deep thoughts, being sure to sprinkle our time together with laughter. We especially loved the hospitality of our guide, Daniel. A native to Porto, he easily shared about his life experiences, travel, and love for the region. Talking with Daniel was like talking with an old friend.
As we departed the valley, having completed two wine tastings, a boat ride along the Douro River, and a home-cooked meal, we were all ready to settle in for a relaxing ride back to Porto.
The van climbed up the hills as Bruce Springteen's "I'm on Fire" came on over the speakers. I exclaimed "hey guys…this is my second favorite song of all time!" My first being "Linger" by The Cranberries. Daniel cranked up the volume, the van careening down through the valley. Tears came to my eyes. I was so happy. My heart was full from the day I had spent with new friends, and the reflection that I was making some major life changes back home.
When we pulled over for one last photo opportunity over the river, I shared my recent obsession with Beyonce's "Break My Soul". I remembered playing it on full blast, dancing through the streets of Kips Bay on my way home, having just quit my job. It was my anthem for regaining power over that period of my life (even though I happen to be more of a Solange lover myself).
Daniel put the song on full volume when we climbed back into the van, all of us singing and dancing while he drove. We spent the remainder of the ride taking turns creating a playlist.
It was sad to leave this group when we arrived back in Porto around 7pm. Serena, her mom, Nita, and myself made plans to meet for lunch the following day.
I knew I'd be okay embarking on solo travel over this next year. But, for some reason, during this Portugal trip I was craving greater human connection. Thankfully, AirBnB delivered (again) with its ingenious invention of Experiences. The perfect alignment of a fun, open group of people in one of the most beautiful places in the world.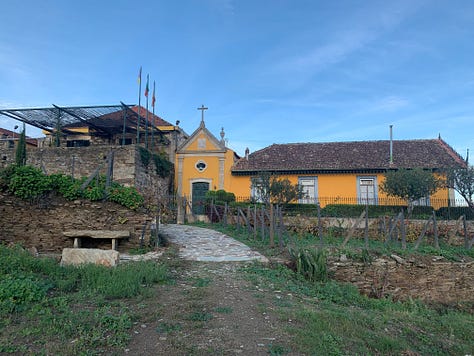 ---
My favorite fact of this trip: The estate owners use olive trees along the terraces of their vineyards. The olive trees are hardy enough to prevent corrosion and attract bugs that would otherwise attack the grape vines.
These olive trees are also used as borders to mark the property lines of each estate. What a beautiful concept, isn't it? Olive branches forming guidelines without disrupting the natural landscape.
This fact struck me as both beautiful and sad, as I anticipate the time I'll spend in Palestine and Mexico, two places plagued with borders causing much pain and political discord.